This week is Semana Santa (Holy Week) celebrating the death and resurrection of our Lord Jesus Christ. However, much of this country does not celebrate it in a "Holy" fashion. Please keep us in prayers, the roads here are considered deadly and many are driving intoxicated. Loud music and big parties are the norm around the touristy areas (bars and beaches.) We are limiting our travel some, but we are also not living in fear.
Since this week is a national holiday, the boys at Niños de la Luz have the week off from school. We joined them Friday for a play day and had a great time with the boys and the other families working at NDLL.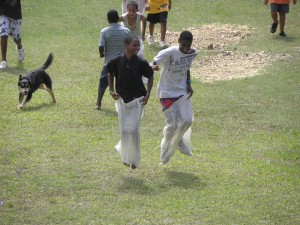 Today we went up to visit some families in Villa Paraiso. Little nervous about the roads, but we did fine and made it back alive. Don't think I will be heading out anywhere tonight!
One man in the village, Jose, has been bleeding for 12 days and has to go to Santiago Monday to be checked out why. Please lift him up in prayer. This may be something related to his past, since before he came to Christ he struggled in drugs. Also, hold his family up as they are all deeply concerned for him. Pray for God's peace.