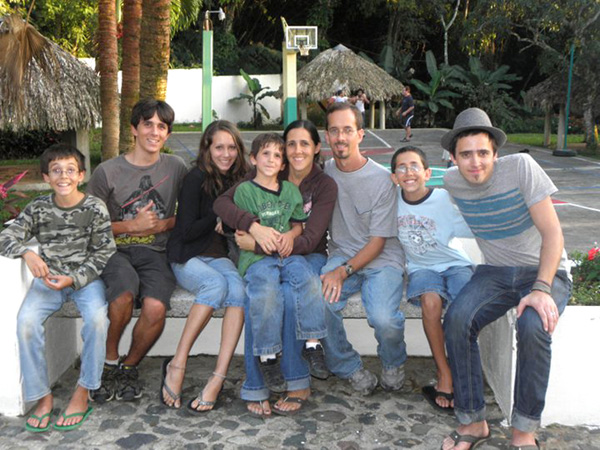 The Oliveria Family – Missionaries to the Dominican Republic
We are a family trying to follow God in every way. Committed to loving God and obeying Him. (Although, as most would have already figured out, we all fail at this, but we won't give up trying.)
We are Shawn and Jessica, married December 28, 1991. We have 6 children – Jeremy, Joshua, Heather, Samuel, Josiah and Silas.
Shawn's Testimony:
I was raised in a Christian home with 7 brothers and sisters. At the age of 7 at a church in the hills of Santa Cruz California I gave my live to Christ and will always remember that day. I believed in Jesus, but never had that relationship with him, instead I ended up trying to run from him as a teenager. However, He never let me get far. I would keep hearing Him saying "this isn't what I want you doing" while I was in sin. I finally returned to him at 19 and began a new journey in my life.
Shortly after that time I began going to a College & Career bible study at a church in Scotts Valley were I met Jessica. It was only 9 months later we were married. Since that time my walk has had its ups and downs, yet always moving closer in my relationship with Christ. We have served at Cornerstone Christian Church, Word of Live Christian Fellowship and helped in Children's church at Rogue Valley Fellowship – all in Medford Oregon.
In 2003 I took my first short term (2 week) trip to the Dominican Republic. Towards the end of that trip I heard God say that we would be living there. It took a few years but in 2010 we finally arrived on the Island of Hispaniola and first worked with Jim and Debra Tunnicliffe and Island Light Ministries. Jim is the pastor at the church in Villa Paraiso and they are running the Technical school located there as well.
We then worked with Niños de la Luz and helped with construction of the new house, helped teach the boys wood-shop and Jessica helped with schooling the boys. This ministry goes beyond being an orphanage and raises the boys as a family, teaching them in the Word and loving them as Christ loves us.
We now are following God's call for us to move to the capital – Santo Domingo. Please pray for us when you think about us.