One thing I really like to do is problem solve or fix things. I know that sometimes I might actually be creating problems too, but I am human right?
Since we have been here we haven't had any bookshelves and being homeschoolers this can be an issue. We brought over many books and still had others bring more, but this has only caused me to get more in trouble with my wife for not having bookshelves ready.
Well, finally I am building some shelves, but I had some problems to solve. First, I have 2 saws – a circular saw and a reciprocating saw. Neither saw is really designed for building furniture. I also am short a router, sander, tablesaw, and so many basic tools that I am use to using to build furniture. Secondly, how do I make them unique, functional, and mobile? Third, very limited amount of money to spend on the project at hand.
Well here is a little solution I came up with: boxes. I am making small wood boxes to support the shelves. Now we could also use a coffee table and some end tables, so I am designing those with basically the same concept. The boxes can be stacked in different configurations. They can stack horizontal or vertical giving two different heights to a shelf. I found while making the shelves, that at 32 inches wide it didn't quite look right to have a box at both ends, so I used one and used screws to help stabilize them.
Here are some pictures to show the process and concept:
First the problem – too many books, no shelves. (One part of the solution in the corner.)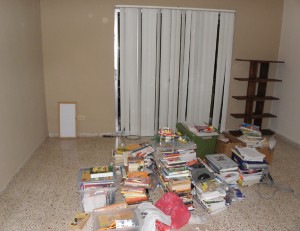 The first one is 32″ wide and is ready for the books.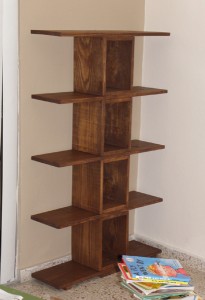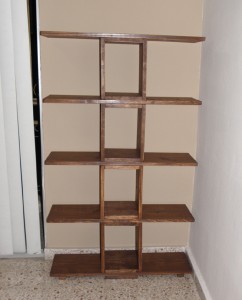 Here are examples of how they can be configured: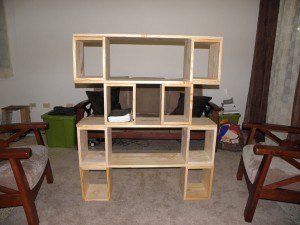 This one has a shorter shelf on top, it would look better if it was even shorter.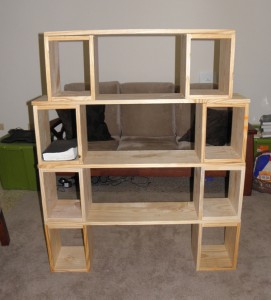 Concept coffee table using the same boxes: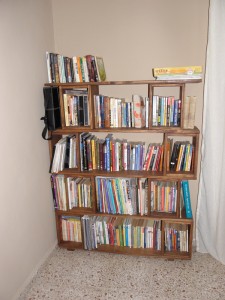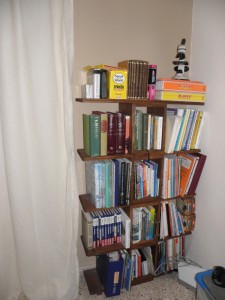 So you might be asking how this fits in to being a missionary. Well, first we are still a family and we live in a house and still homeschool. There is a normal part of living no matter where you live. Secondly, how do we solve problems. Do we let things  stop us or do we find solutions and move forward. One of the things I am learning on the field is to keep pressing on. There have been many challenges, but through Christ I know there are solutions and positive results of each of those challenges. I do believe what the Bible says in Romans 8:28
And we know that in all things God works for the good of those who love him, who have been called according to his purpose.